Click on the popular Electric Vehicle Chargers below from Bosch, ClipperCreek and GE to learn more about the chargers, get pricing and buy now via Amazon
Commercial Electric Vehicle Chargers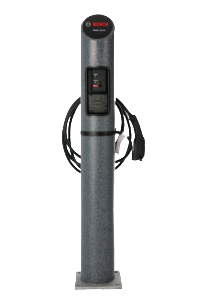 Bosch Power Xpress Bollard
Efficient and affordable, the Power Xpress Bollard is a great choice for commercial and public EV charging. The Power Xpress Bollard is the perfect charging solution for retail locations, restaurants, hotels, public parking areas, schools, apartments, office buildings, or airports. Drivers simply pull up, plug in and charge. The durable galvanized steel bollard is designed to tolerate harsh weather, vandalism, and light impact. The Power Xpress Bollard has a 25 foot charging cord, the longest by industry standards, which offers maximum versatility to drivers of all electric vehicles. The decorative sleeve that covers the bollard is made from post-consumer recycled materials and comes in a variety of colors.
Clipper Creek HCS-40 Pedestal Mount, 32 amp EV Charging Station, 25 ft cable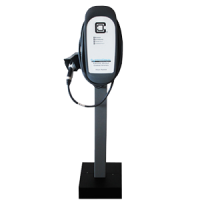 Introducing ClipperCreek's HCS single pedestal mount. This rugged and convenient to install HCS single mount pedestal is perfect for all commercial installation needs at an affordable price.
Low Cost – Minimize your installation costs and mount one or two units on a single pedestal
Universal – Industry standard bolt platform pattern to replace outdated charging stations
Tough – Powder coated steel pedestal with NEMA 4, fully sealed charging station
Reliable – Backed by ClipperCreek's 3-year warranty
Convenient – All units come equipped with 2 knockouts positioned for 120V outlet
The turn key solution for all your electric vehicle charging needs, EV Safe Charge is the one stop shop to buy and get your electric vehicle charging station installed. EV Safe Charge is charging, simplified.
Flexible buying and warrantee options
We've made it easy to buy and install your electric vehicle charger.
We offer flexible choices
We've partnered with Amazon to offer the lowest pricing and free shipping if you have Amazon Prime
3 easy choices
1. Buy your EV charger and installation from us
Just Contact Us and we handle everything
Benefit from industry-leading installation and product warrantees
Rate your experience working with us (we work hard to earn your highest rating)
Complimentary Membership in the EV Safe Charge Electric Vehicle Motoring Club (The club offers fun events for electric vehicle owners and exclusive benefits only available to club members)
Benefit from fair product and installation pricing
Contact Us  today to get a free installation and charger quote
2. Buy your EV charger from us via Amazon (just click Amazon product link) and installation from us
Benefit from industry-leading installation and product warrantees
Rate your experience working with us (we work hard to earn your highest rating)
Complimentary Membership in the EV Safe Charge Electric Vehicle Motoring Club (The club offers fun events for electric vehicle owners and exclusive benefits only available to club members)
Benefit from great Amazon pricing and free shipping with Amazon prime and great installation pricing
Contact Us following your EV charger purchase on Amazon to get a free installation quote
3. Buy your EV charger from us via Amazon (just click Amazon product link) and installation from someone else (or from us at a later date)
Benefit from great Amazon pricing and free shipping with Amazon prime
Install it yourself (not recommended unless you are a licensed electrician) or with an electrician of your choice
You can always decide later to have us install it if you like and receive all the added benefits listed in options 1 and 2 above (Industry-leading installation & equipment warrantees, rating the experience (we work hard to earn your highest rating), complimentary membership in the EV Safe Charge Electric Vehicle Motoring Club & fair installation pricing)
Contact Us following your EV charger purchase on Amazon to get a free installation quote