EV Safe Charge Receives California Certificate of Recognition for EV Charger Installations with Colton Joint Unified School District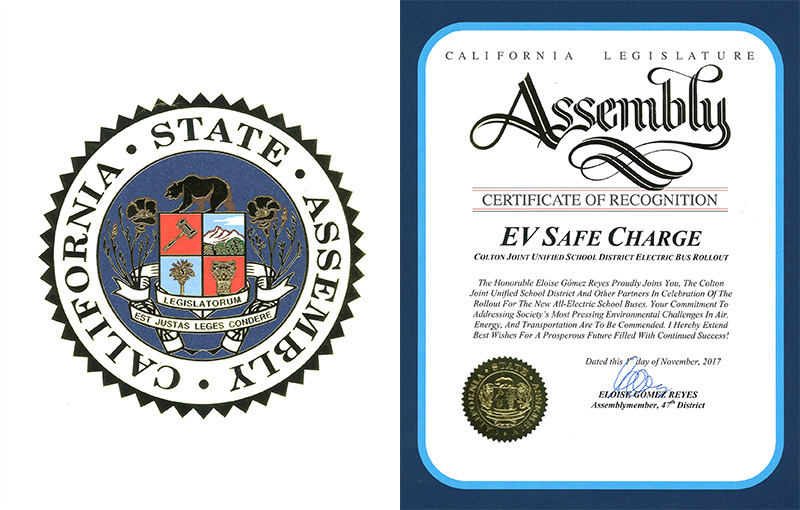 Los Angeles, CA – November 8, 2017 – EV Safe Charge, a US-based EV charging installation and services group, announced today that the company hasproudly received a "Certificate of Recognition" from the State of California and The Honorable Eloise Gómez Reyes, Assembly member, 47th District, for the installation of new EV chargers to support the new all-electric school buses for the Colton Joint Unified School District. EV Safe Charge was honored along with the school district for recognition of the importance of clean energy.
"EV Safe Charge is so proud to be recognized by the Honorable Eloise Gómez Reyes, and for the work we've done with the folks at the Colton Unified School District," stated EV Safe Charge CEO, Caradoc Ehrenhalt. "The developing EV automotive and utility vehicle industry is in need of installing more EV chargers for vehicles of all sizes – from small compacts to the huge school buses recently put into use for Colton school district's students. And what better way to communicate to those students the importance of renewable energies and the safe, clean-energy forms of transportation that are available and proliferating globally than through the use of these clean buses. We're very proud of our work in Colton with our friends and partners at the AQMD, Creative Bus Sales, MotivPower Systems and Clipper Creek on this exciting, important and historic deployment, and are greatly appreciative to the school board and community for their support."
In proclaiming EV Safe Charge and the school district's recognition, the Certificate reads, "The Honorable Eloise Gómez Reyes proudly joins you, the Colton Joint Unified School District and other partners in celebration of the rollout for the new all-electric school buses. Your commitment to addressing society's most pressing environmental challenges in air, energy and transportation are to be commended."
EV Safe Charge is a national service providing residential and commercial installations of EV charges for customers ranging from individual homes to retail outlets and car dealership networks. Working in tandem with industry leading suppliers such as Bosch, ClipperCreek, EV Connect and JuiceBox, EV Safe Charge provides a turnkey solution suitable to any customer.
About EV Safe Charge
EV Safe Charge is transforming the way consumers and businesses go green.
By providing concierge-style white glove service, we are becoming THE leading
turnkey solution in installing, maintaining and enabling EV chargers and software
for electric vehicle charging anywhere in the US.
Our customers range from owners of homes, apartment complexes, office
buildings and commercial locations nationwide to organizations such as Penske
Automotive, the Colton Joint Unified School District and The Langham Hotel in
Pasadena.
For more information, visit www.evsafecharge.com
Media Contact:
Sean Mahoney
C. +1-310-867-0670
seamah@gmail.com
https://evsafecharge.com/wp-content/uploads/2022/06/EVSC-Logo_Color@4x.png
0
0
EV Safe Charge
https://evsafecharge.com/wp-content/uploads/2022/06/EVSC-Logo_Color@4x.png
EV Safe Charge
2017-11-01 10:01:51
2018-02-01 11:17:03
EV Safe Charge Receives California Certificate of Recognition for EV Charger Installations with Colton Joint Unified School District