Best Way to Charge an Electric Car May Soon Be a Robot Named Ziggy
The battery-on-wheels robot can autonomously navigate parking areas to bring EV charging straight to whatever spot you've parked in. It's slated for release by late 2023 or early 2024.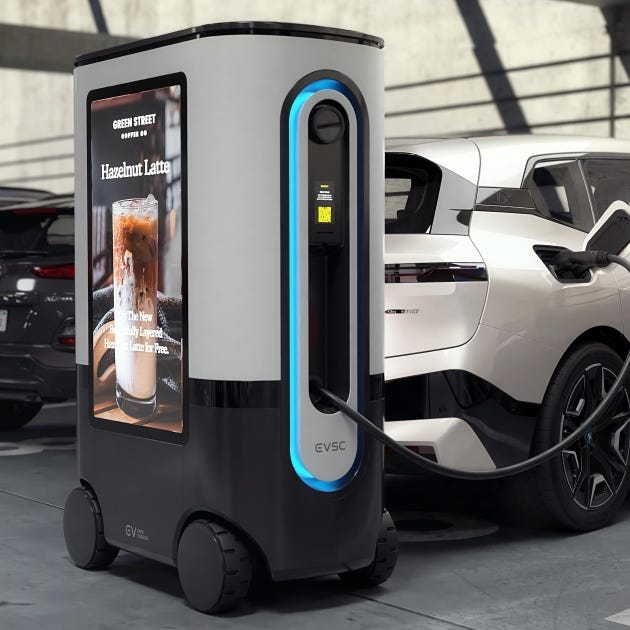 Ziggy is a robotic EV charging station that's designed to live in parking areas, where drivers can summon it through an app to come charge their vehicle.
Charging startup EV Safe Charge has been developing the robots since 2019 and aims to have Ziggys shipped by late 2023 or early 2024.
Roughly the size of a refrigerator, Ziggy is a battery on wheels that will be able to autonomously navigate parking areas to reserve drivers' spots and charge their cars. And of course, it's got ads on it.
UPDATED 7/7/22: EV Safe Charge CEO Caradoc Ehrenhalt told Car and Driver that the current estimate for production is "late 2023 or early 2024." We have updated the story to include this new estimate.
If you've driven an electric vehicle, you know the struggle of arriving at a parking lot only to find the sparse EV charging spots all filled up. Worse yet, one of the cars hooked up to the charging port is fully charged with no owner in sight! Oh, the horror of underdeveloped EV infrastructure. A Los Angeles startup named EV Safe Charge thinks it has a solution: Ziggy, the EV-charging robot.
Ziggy is intended to be a solution for parking areas looking to implement EV charging but struggling to overcome the limitations of stationary charging systems. The way it works is this: Drivers enter the parking area and reserve a numbered parking spot through an app. When they arrive at their spot, Ziggy is there, ready to charge their car.
https://evsafecharge.com/wp-content/uploads/2022/11/oOf53wf872-aCzDgBMAAAAAElFTkSuQm.png
91
551
EV Safe Charge
https://evsafecharge.com/wp-content/uploads/2022/06/EVSC-Logo_Color@4x.png
EV Safe Charge
2022-07-05 05:54:11
2022-11-11 06:02:56
Best Way to Charge an Electric Car May Soon Be a Robot Named Ziggy