Barcelona Chooses EV Safe Charge as Winner of Innovation Challenge Seeking Technology Solution for Flexible Electric Vehicle Charging to Encourage Electromobility
Marks First Time a City is Piloting a Mobile Robotic EV Charging Solution Anywhere in the World
BARCELONA, May 10, 2023 – Barcelona de Serveis Municipals (B:SM), the main services company owned by Barcelona City Council, today announced that EV Safe Charge, a US-based provider of level-2 and DC fast-charging and temporary electric vehicle (EV) charging solutions, won the call made by the 2030 Agenda Commissioner of the Barcelona City Council and B:SM through the InnovAcció 2030 programme to promote the development of a flexible EV charging point. The aim of the project is to tackle various challenges in the expansion of electromobility in the city, such as the concentration of recharge points in parking areas and infrastructure maintenance.
B:SM chose EV Safe Charge as winner due to the company's recently launched demonstration prototype of ZiGGY, a mobile, robotic EV charger that would be easily accessible to many vehicles within a car park. This win marks the first time that a city is piloting a mobile robotic EV charging solution anywhere in the world.
Aiming to become a more sustainable city, Barcelona is pushing the transformation towards electromobility. "In a compact city like Barcelona, the electromobility expansion strategy entails concentrating recharging points around the network of car parks," explained Laia Bonet, president of BSM and Councillor for Mobility in Barcelona City Council. "The solution developed by EV Safe Charge offers a very good base to work from and explore the implementation of robotic and mobile recharging points which can get from one place to another to provide service in various rotational places."
"EV Safe Charge recognized early on the need for a truly mobile EV charging solution and worked the past three years to develop ZiGGY, an onsite-autonomous vehicle operating through an app to meet a broad range of EV charging needs in locations away from single- and multi-family housing," explained Caradoc Ehrenhalt, founder and CEO, EV Safe Charge. "We are thrilled to win the Innovation Challenge so that we can partner with B:SM to bring the convenience, safety and reliability of ZiGGY to the EV drivers of Barcelona."
EV Safe Charge creates and implements temporary charging solutions for its large-scale commercial customers, including many mobility manufacturers such as Jaguar, Porsche, Stellantis, Nissan, Audi, Daimler, and Harley-Davidson.
"In this Challenge, the mobile charger must communicate with the central management system of the existing Endolla Barcelona charging points and interact with the user through SMOU, Barcelona's personal mobility application, which is currently used by more than 800,000 people," explained Bonet.
"B:SM told us that the solution must be scalable and replicable in any car park in Barcelona and other cities," added Ehrenhalt. "We knew that ZiGGY was ideal for B:SM's needs and are excited to begin with a pilot test in the B:SM car park in Plaça Navas next year."
The pilot project has begun and will proceed in the following phases:
Development and manufacture of prototypes
Integration with B:SM systems and internal testing
B:SM Parking Pilot and Results Analysis in 2024
"In this pilot, we expect to observe the viability of ZiGGY's flexible EV charging in our parking structures," said Bonet. "To have a solution that is better adapted to the charging demand of EVs in rotating parking spaces offers citizens a more efficient service and paves the way for new EV charging models. We own and manage 44 car parks and expect ZiGGY to make more effective use of the electrical infrastructure and help to promote adoption of electric mobility."
This Challenge is also aligned with the effort to achieve the Sustainable Development Goals of the United Nations 2030 Agenda and that Barcelona City Council is facing through the Commissioner of the 2030 Agenda. As the winner, EV Safe Charge will receive €90,000 including VAT to execute the pilot program.
About BSM, leader in electromobility in Barcelona
Barcelona de Serveis Municipals (BSM) is one of the main service companies in the city. The company's goal is to improve people's quality of life, generating positive experiences to build a healthy, cutting-edge Barcelona.
Under the ownership of Ajuntament de Barcelona, BSM has consolidated its position as a benchmark, pioneering company in the fields of mobility, culture, leisure and looking after public space in the city.
The main challenges it is currently working on include rolling out the electromobility network, Endolla Barcelona. With 720 charging points distributed throughout the city's neighbourhoods and districts, Endolla Barcelona acts as a driver, stimulating electric vehicle penetration, developing an EV charging infrastructure that anticipates demand and favours the sector's development through numerous innovative initiatives focusing on aspects such as efficient and smart energy management, or the creation of new electromobility solutions that favour the public's transition to electric vehicles.
At the close of 2022, Endolla Barcelona had more than 16,000 users and had exceeded more than 100,000 uses. The goal is to keep growing the network in 2023 and to end the year with 1,000 points installed.
The announcement on the Barcelona city website can be seen here.
About EV Safe Charge
EV Safe Charge is a leading provider and innovator of flexible electric vehicle (EV) charging technology. We offer end-to-end charging solutions to support the demands of the rapidly growing EV market. The company, funded by private angel investors, created the first comprehensive mobile rental charging solution for the launch of the Jaguar I-PACE, and is meeting the mobile charging needs for major OEMs and events and venues needing temporary charging. EV Safe Charge clients include Audi, Hertz, Jaguar, Mercedes-Benz, Nissan, Porsche, Stellantis, the Los Angeles Department of Water and Power and many others. A BRITE Energy Innovators portfolio company, EV Safe Charge recently previewed ZiGGY, its advanced technology solution to further meet mobile charging needs. EV Safe Charge is committed to creating a more sustainable and convenient electric future. For more information, visit our Website, follow us on Twitter and LinkedIn. Charging Toward a Greener Future®
ZiGGYTM is a Trademark of EV Safe Charge Inc.
A short ZiGGY video can be seen here and one created by the World Economic Forum can be seen here.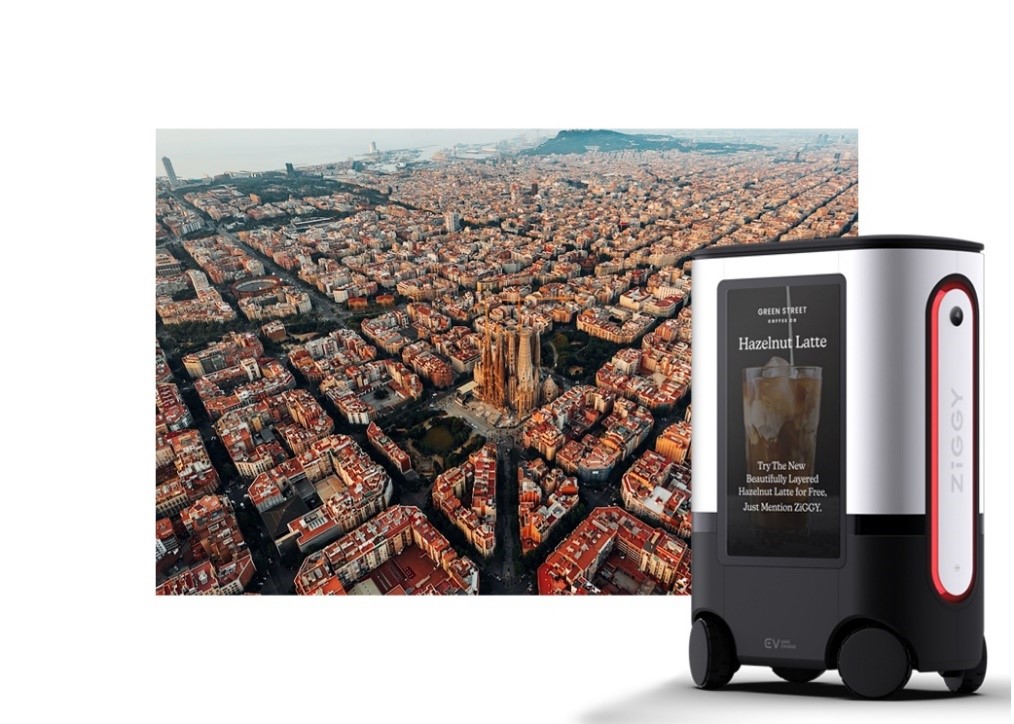 https://evsafecharge.com/wp-content/uploads/2023/04/evbm.jpg
156
725
EV Safe Charge
https://evsafecharge.com/wp-content/uploads/2022/06/EVSC-Logo_Color@4x.png
EV Safe Charge
2023-04-20 09:55:06
2023-05-18 09:39:14
Barcelona Chooses EV Safe Charge as Winner of Innovation Challenge Seeking Technology Solution for Flexible Electric Vehicle Charging to Encourage Electromobility