DFW International Airport Chooses EV Safe Charge's Robotic Charger ZiGGY for Demonstrating Newest Charging Approaches – World's First Mobile, Robotic EV Charging Demonstration at an Airport
Second Such Recent Win for ZiGGY, Following Choice by Barcelona of  EV Safe Charge as Winner of EV-Charging Innovation Challenge
LOS ANGELES, May 17, 2023 – Dallas Fort Worth International Airport (DFW) Airport has named ZiGGY, the new robotic EV charger from EV Safe Charge, as a participant in the airport's demonstration program to assess cutting-edge EV-charging approaches this summer. ZiGGY is the first and only mobile EV charger that aims to affordably and safely meet the EV charging needs of virtually any commercial parking lot – including airports – and offer a built-in communications and advertising platform to create a revenue stream for sites and maximize EV owner engagement. This airport demonstration is the first of its kind anywhere. DFW's Innovation and Planning teams will host a series of EV charging demonstrations from May through August.
"Airports must meet the growing demand for travelers owning EVs to easily charge while they fly," explained Caradoc Ehrenhalt, founder and CEO, EV Safe Charge. "In evaluating potential technologies for their demonstration, DFW chose to display the tech offered by ZiGGY due to its innovative flexibility to reach every car in a parking lot, not just a few spaces. We look forward to working with DFW with the goal of identifying more options to service their expanding EV-driving traveler base, and we are thrilled to be part of this historic moment."
EV Safe Charge, in addition to selling commercial Level 2 and DC Fast Chargers, creates and implements temporary charging solutions for its large-scale commercial customers, including many mobility manufacturers such as Jaguar, Porsche, Stellantis, Nissan, Audi, Daimler, and Harley-Davidson.
"At EV Safe Charge, we recognized early the need for a truly mobile EV charging solution and worked the past three years to develop ZiGGY, an onsite-autonomous vehicle operating through an app to meet a broad range of EV charging needs in locations away from single- and multi-family housing," continued Ehrenhalt. "We are thrilled to be included in these historic demonstrations at DFW Airport so that we can bring the convenience, safety and reliability of ZiGGY to EV drivers traveling from this important hub."
This DFW Airport demonstration project follows other recent EV Safe Charge milestones. Recently, the city of Barcelona chose EV Safe Charge as the winner of its pilot-project competition for flexible EV charging based on ZiGGY's ability to serve many vehicles within a parking area. The aim of Barcelona's project is to expand electromobility in the city. This is the first municipal pilot of a mobile, robotic EV charger.
The announcement from DFW International Airport can be seen here.
About EV Safe Charge
EV Safe Charge is a leading provider and innovator of flexible electric vehicle (EV) charging technology. We offer end-to-end charging solutions to support the demands of the rapidly growing EV market. The company, funded by private angel investors, created the first comprehensive mobile rental charging solution for the launch of the Jaguar I-PACE, and is meeting the mobile charging needs for major OEMs and events and venues needing temporary charging. EV Safe Charge clients include Audi, Hertz, Jaguar, Mercedes-Benz, Nissan, Porsche, Stellantis, the Los Angeles Department of Water and Power and many others. A BRITE Energy Innovators portfolio company, EV Safe Charge recently previewed ZiGGY, its advanced technology solution to further meet mobile charging needs. EV Safe Charge is committed to creating a more sustainable and convenient electric future. For more information, visit our Website, follow us on Twitter and LinkedIn. Charging Toward a Greener Future®
ZiGGYTM is a Trademark of EV Safe Charge Inc.
A short ZiGGY video can be seen here and one created by the World Economic Forum can be seen here.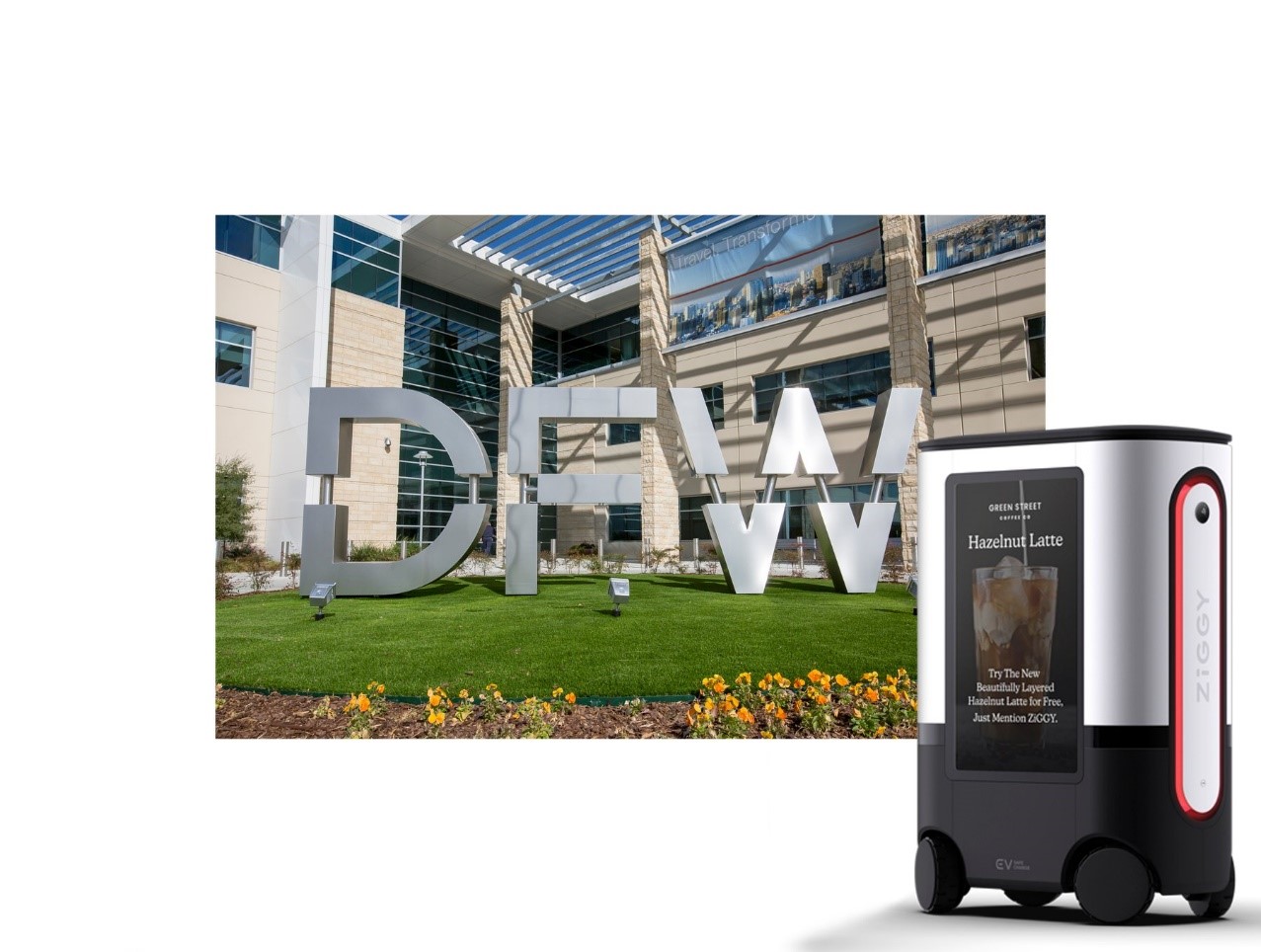 https://evsafecharge.com/wp-content/uploads/2023/05/DFW_airport_logo-1.png
76
785
EV Safe Charge
https://evsafecharge.com/wp-content/uploads/2022/06/EVSC-Logo_Color@4x.png
EV Safe Charge
2023-05-18 06:37:05
2023-05-18 09:37:42
DFW International Airport Chooses EV Safe Charge's Robotic Charger ZiGGY for Demonstrating Newest Charging Approaches – World's First Mobile, Robotic EV Charging Demonstration at an Airport