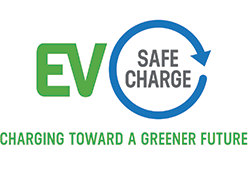 EV Safe Charge Named as One of the Top Ten Startups by The Los Angeles Auto Show and AutoMobility LA for 2017
FOR IMMEDIATE RELEASE
OCTOBER 5, 2017
EV Safe Charge Named as One of the Top Ten Startups by The Los Angeles Auto Show and AutoMobility LA for 2017
Los Angeles, CA – October 5, 2017 – EV Safe Charge™, a Los Angeles based EV charging installation and services group, is proud to announce today that the company has been named as one of the Top Ten Startup companies by The Los Angeles Auto Show and AutoMobility LA for the 2017 LA Auto Show.
"EV Safe Charge is honored to be named by The Los Angeles Auto Show and AutoMobility LA as one of their Top Ten Startups for 2017," stated EV Safe Charge Founder and CEO, Caradoc Ehrenhalt. "We're so proud to be grouped among such impressive & innovative companies representing everything from AI technology to carpool solutions for schools, teams and active families, and to be the only LA-based company selected."
AutoMobility aims to achieve their goals by fostering interaction and innovation among businesses, organizations and government offices involved both directly and tangentially in the new mobility industry. "The importance of AutoMobility and the companies it chooses to recognize, represents the future of the automotive industry," continued Ehrenhalt. "It's amazing to see the auto industry now moving so rapidly towards green solutions, and we're proud to be recognized as a leader in end-to-end electric vehicle charging infrastructure."
EV Safe Charge is a nationwide service providing residential and commercial installations of EV chargers for customers ranging from individual homes to retail outlets and car dealership networks. Working in tandem with industry leading suppliers such as Bosch, ClipperCreek, EV-Box and EV Connect, EV Safe Charge provides a turnkey solution suitable to any customer.
About EV Safe Charge
EV Safe Charge is transforming the way consumers and businesses go green. By providing concierge-style white glove service, we are becoming THE leading turnkey solution in installing, maintaining and enabling EV chargers and software for electric vehicle charging anywhere in the US.
Our customers range from owners of homes, apartment complexes, office buildings and commercial locations nationwide to organizations such as Penske Automotive, the Colton Unified School District and The Langham Hotel in Pasadena. For more information, visit https://www.evsafecharge.com/.
About the Los Angeles Auto Show and AutoMobility LA
Founded in 1907, the Los Angeles Auto Show (LA Auto Show®) is the first major North American auto show of the season each year.  In 2016, the show's Press & Trade Days merged with the Connected Car Expo (CCE) to become AutoMobility LATM, the industry's first trade show converging the technology and automotive industries to launch new products and technologies and to discuss the most pressing issues surrounding the future of transportation and mobility.  AutoMobility LA 2017 will take place at the Los Angeles Convention Center Nov. 27-30, with manufacturer vehicle debuts intermixed.  LA Auto Show 2017 will be open to the public Dec. 1-10.  AutoMobility LA is where the new auto industry gets business done, unveils groundbreaking new products and makes strategic announcements in front of media and industry professionals from around the globe.  LA Auto Show is endorsed by the Greater L.A. New Car Dealer Association and is operated by ANSA Productions.  To receive the latest show news and information, follow LA Auto Show on Twitter at twitter.com/LAAutoShow, via Facebook at facebook.com/LAAutoShow or on Instagram at https://www.instagram.com/laautoshow/ and sign up for alerts at http://www.laautoshow.com/. For more information about AutoMobility LA, please visit http://www.automobilityla.com/.
Media Contact:
https://evsafecharge.com/wp-content/uploads/2018/12/EVSC-LOGO-TAG-V11.png
172
250
EV Safe Charge
https://evsafecharge.com/wp-content/uploads/2022/06/EVSC-Logo_Color@4x.png
EV Safe Charge
2017-10-05 12:01:38
2022-03-31 12:53:55
EV Safe Charge Named as One of the Top Ten Startups by The Los Angeles Auto Show and AutoMobility LA for 2017