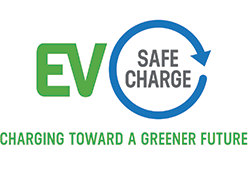 EV Safe Charge Supplying Mobile EV Charging for Jaguar North America's National I-PACE Launch Tour
EV Safe Charge Supplying Mobile EV Charging for Jaguar North America's National I-PACE Launch Tour
Jaguar Electrifies Experience Marks First National Deployment of Portable Level 2 and DC Fast Chargers by an Automotive Brand
Los Angeles – December 20, 2018 – EV Safe Charge™, a US-based Electric Vehicle charging installation and services company, today announced its role and involvement at Jaguar Electrifies Experience, a multi-city national tour to promote the brand's first-ever, all-electric performance SUV, the I-PACE. Jaguar North America is leveraging EV Safe Charge's portable electric vehicle (EV) charging solution, EV Charge Mobile™, as one of the suppliers to Jaguar Electrifies Experience to power the I-PACE vehicles on-site.
Jaguar Electrifies Experience is designed to educate consumers on the I-PACE as well as on the benefits of EV technology within an entertaining and dynamic environment. At these events, attendees have the opportunity to get behind the wheel of the I-PACE in a series of street drives and on a timed and scored, closed-circuit SmartCone course.
"We were put through a rigorous vetting process," explained EV Safe Charge Founder and CEO Caradoc Ehrenhalt. "The project required a partner that could not only provide portable Level 2 and DC fast charging stations but also the logistical support and project management to handle charging on such a prestigious and arduous series of nationwide events."
"For event planners, there are enormous logistical hurdles to pull off 24/7 charging in locations where there is no existing infrastructure," stated Ian Beavis, chief strategy officer at AMCI Global. "Caradoc has been relentless in pursuing leading edge charging solutions and was a first mover in mobile fast charging that helped immeasurably in the successful delivery of these events."
EV Safe Charge is the only company that provides a comprehensive mobile solution with Level 2 and DC fast chargers, accompanied by complete logistical support. It manages the entire mobile EV charging experience, including charger delivery, set up and pickup, operations, and any required permitting and insurance needed for mobile EV charging.
In mid-2018, EV Safe Charge participated in a series of internal events for Jaguar North America, which were deemed a success by AMCI Global and Jaguar. As a result, AMCI Global recommended EV Safe Charge for the entire US I-PACE launch tour, which subsequently turned into a similar deployment in Canada.
Ehrenhalt continued, "Part of our ethos is an unwavering commitment to safety and bringing a high level of industry knowledge and experience to every installation and deployment – and at any location our customers need it. Event producers trust us because we are experts. Being approached to provide mobile EV charging solutions for the I-PACE launch was a great honor and milestone for our company. It tells the world that we are a company that can be counted on to fulfill our clients' EV charging needs."
Jaguar Electrifies Experience kicked off in San Francisco in October 2018 and traveled to key U.S. EV markets including South Florida/Miami and Los Angeles. The next event takes place spring 2019 in the New York City metro area. For additional information and to register to attend, visit www.jaguarusa.com/electrifies.
About EV Safe Charge
EV Safe Charge is transforming the way consumers and businesses go green – making it a simpler experience. By providing concierge-style white glove service, EV Safe Charge is becoming the leading turnkey solution for installing, maintaining and enabling chargers and software for electric vehicle charging anywhere in the US. Customers range from owners of homes, apartment complexes, office buildings and commercial locations nationwide to organizations such as Penske Automotive, the Colton Joint Unified School District, and The Langham Hotel in Pasadena.
In early 2018, the Company introduced EV Charge Mobile, the industry's first comprehensive, portable charging solution, which is being deployed by national event managers in various industries.
EV Safe Charge has received numerous industry accolades, including being ranked one of "2018 Top 15 Most Fundable Companies" by Pepperdine Graziadio Business School and named an AutoMobility LA and LA Auto Show Top 10 Startup in 2017.
EV Safe Charge plants a tree with the Arbor Day Foundation for each EV charger sold or installed. Every new EV charger from EV Safe Charge is shipped from ECF and handled with care by adults with developmental disabilities. Together in partnership with ECF, EV Safe Charge is helping create jobs for adults with special needs.
Additional Resources:
Learn more about EV Safe Charge's solutions
Watch videos on our YouTube channel
Connect with us on Facebook and Twitter
Media Contact:
EV Safe Charge™ and EV Charge Mobile™ are trademarks owned by EV Safe Charge Inc.
https://evsafecharge.com/wp-content/uploads/2018/12/EVSC-LOGO-TAG-V11.png
172
250
EV Safe Charge
https://evsafecharge.com/wp-content/uploads/2022/06/EVSC-Logo_Color@4x.png
EV Safe Charge
2018-12-20 12:01:15
2022-03-31 12:52:54
EV Safe Charge Supplying Mobile EV Charging for Jaguar North America's National I-PACE Launch Tour