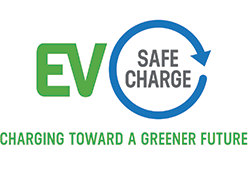 EV Safe Charge Ranked One of "Top 15 Most Fundable Companies" by Pepperdine Graziadio Business School
FOR IMMEDIATE RELEASE
LOS ANGELES, CA – OCTOBER 12, 2018
EV Safe Charge Ranked One of "Top 15 Most Fundable Companies" by Pepperdine Graziadio Business School
Company Chosen from Among 2500 Applicants Around the Country
October 12, 2018, LOS ANGELES – EV Safe Charge™, a leading provider of EV charging solutions, is thrilled to announce that it has been named to the Pepperdine Graziadio Business School first annual Most Fundable Companies List. EV Safe Charge competed against more than 2500 other early-stage U.S. companies to win the recognition as one of the most fundable companies for private industry investors. As a winner, EV Safe Charge will be profiled on Entrepreneur.com and featured in the November print issue of the magazine.
"We are honored that the judges recognized us as a promising, fast-growing company with big ambitions in a hypergrowth industry segment," said EV Safe Charge Founder and CEO Caradoc Ehrenhalt. "Attracting continued investor interest is a key priority of our team and this prestigious exposure from a leading business school is further validation of our exciting potential. We are grateful for the award and congratulate each of the winners."
The Most Fundable Companies initiative involved a multi-phase assessment that evaluated financial projections, market opportunity, differentiation of offering and the strength of the management team, all of which were used to produce a fundability score. The top 15 companies were selected in partnership with The Venture Alliance based on their readiness for private investment. Honorees on the inaugural list are located across the country and come from a variety of industries.
"EV Safe Charge is transforming the charging solutions market with innovative approaches and white-glove service," continued Ehrenhalt. "With the need for 40 million charging stations around the globe by 20301, our business model aims to capitalize on this staggering growth opportunity in a highly fragmented market. " he concluded.
About EV Safe Charge
EV Safe Charge is providing customized, turnkey solutions for installing, maintaining and enabling chargers and software for electric vehicle charging anywhere in the U.S., as well as offering a rental option for event or location charging needs, and consultation services. Our customers include property managers and owners of homes, apartment complexes, office buildings and commercial locations nationwide along with OEMs, school districts, hotels, corporations and film crews. Committed to a greener and socially responsible tomorrow, the company plants a tree with the Arbor Day Foundation for each EV charger sold or installed and works with ECF.net to create jobs for adults with special needs.
For more information on EV Safe Charge and its products and services visit: www.evsafecharge.com
Connect with EV Safe Charge via YouTube: https://www.youtube.com/channel/UCWI9i8dlMRoIPXz8eb6T-yA
Connect with EV Safe Charge via Facebook: http://www.facebook.com/EVSafeCharge
Connect with EV Safe Charge via Twitter: https://twitter.com/EVSafeCharge
Media Contact:
Note: EV Safe Charge is a trademark registered to EV Safe Charge Inc.
(1) According to a recent EV industry report by Wood Mackenzie Ltd.
https://evsafecharge.com/wp-content/uploads/2018/12/EVSC-LOGO-TAG-V11.png
172
250
EV Safe Charge
https://evsafecharge.com/wp-content/uploads/2022/06/EVSC-Logo_Color@4x.png
EV Safe Charge
2018-10-12 12:01:34
2022-03-31 12:53:15
EV Safe Charge Ranked One of "Top 15 Most Fundable Companies" by Pepperdine Graziadio Business School