Dallas airport will demo this cute little mobile EV charging robot
Instead of making the EVs park by a charger, this charger can come to the EV.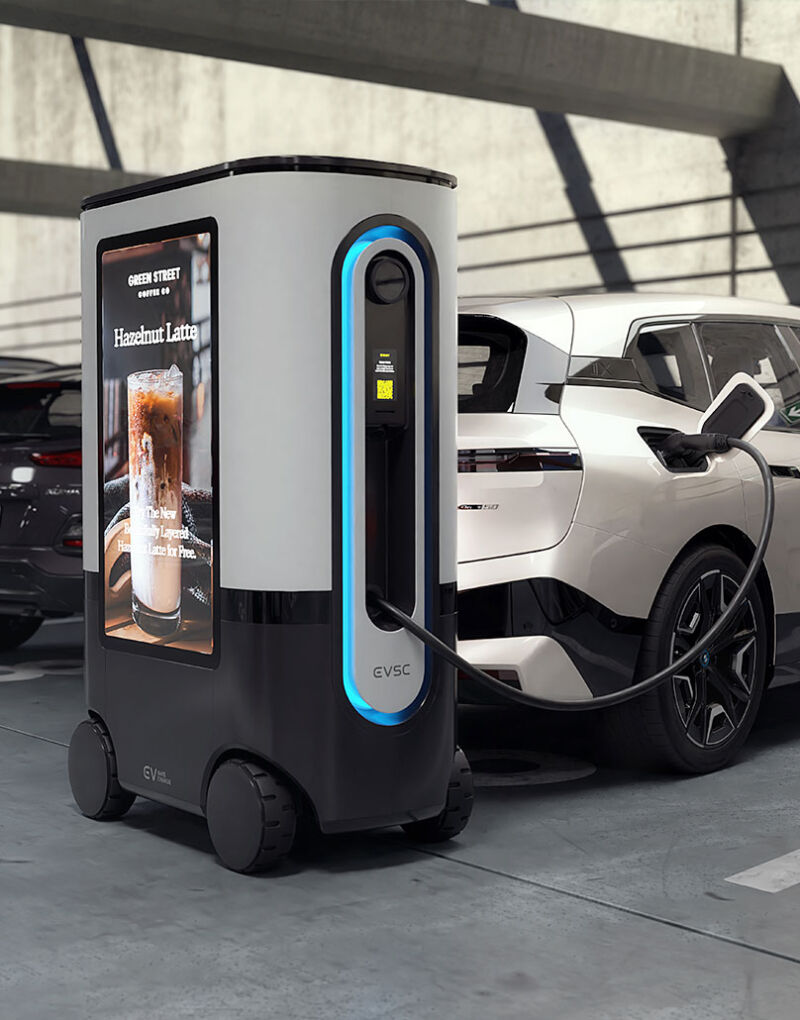 There are a few things we need to work on if we're going to properly embrace the electric vehicle revolution. More batteries, for one—tight supplies mean automakers can only build enough EVs to satisfy some of the pent-up demand. Cheaper EVs would be helpful, too, considering that by the end of 2022 the average cost of a new EV was more than $61,000. And charging infrastructure needs to improve, too. Now, a new mobile EV charger called Ziggy might help with that last one.
Installing EV chargers usually isn't too difficult if you're a homeowner with a garage or carport, but things can get more complicated for multifamily dwellings and commercial parking premises. Permitting is often a big problem, and there can also be lengthy waits to get electrical infrastructure upgraded, particularly if the plan is to install level 3 DC fast chargers, which can suck up 100s of kWs of electricity from the grid.
Ziggy is the work of the company EV Charge Safe, and it flips the idea of EV charging on its head. Instead of a driver parking by the EV charger, Ziggy is mobile and can come to the car instead.
"The idea really came out of customer demand," explained Caradoc Ehrenhalt, founder and CEO of EV Charge Safe. "So many people have contacted us asking us if we had a charger with the power on board, because we're the first company to have created a comprehensive level two and DC fast charger rental solution."
EV Safe Charge rents (static) chargers, for example, to car makers to use at car launches or ride-and-drive events. "So wherever anyone needs temporary EV charging or if someone is waiting for permits, they can rent our charger," Ehrenhalt told me.
"What we're hearing from people that want to use Ziggy around the world—shopping centers, hotels, airports, etc—is the common thread of the infrastructure being very challenging or not possible to put in or not cost effective or takes too much time. And so there really is the need for a mobile charging solution," he said.
Ziggy does Dallas
The design is a box on wheels, with a battery pack and power electronics on the inside and display screens on the exterior that show advertising, similar to static chargers from companies like Volta. After charging up—something that could be done off-site if necessary—Ziggy can travel around a geofenced area to visit individual parking spaces, bringing EV charging to unwired locations.
"Generally Ziggy will live within a certain environment. So mostly commercial parking lots—airports, shopping centers, business office centers, hotels, multi unit dwellings. And then Ziggy is also great for urban settings to recharge not just cars, but scooters, bicycles, things like that. So a real automobility solution for recharging," he told me. Its first big test here in the US will happen this summer at Dallas-Fort Worth International Airport.
The system is configurable to the clients' needs—initially that means level 2 (AC) charging, with level 3 DC charging in the works. (I'm waiting on EV Safe Charge to tell me the battery capacity of the DFW Ziggy and will update this as and when we get that answer.)
And yes, since I know this will otherwise be the only thing people talk about in the comments, the company has considered the potential for vandalism.
"Ziggy is fairly heavy because of the battery. It has cameras all around and sensors, including GPS, and so there potentially could be [vandalism], but I'm always hoping for the best of humanity," Ehrenhalt told me. (The potential for self-ownage by vandalizing a high-voltage EV charger also seems quite large, so perhaps it's the sort of thing a vandal only ever does once.)
"The thing is, again, it's got cameras; those are being monitored in real time. And it's generally in access-controlled areas that also have their own access and cameras, and so we don't foresee that as something that's going to be a big issue, but yes, certainly we have taken [this] into account," Ehrenhalt said.
However, Ziggy isn't going into full-time service at DFW. Instead, it will be used in one of five demonstrations of charging technologies at various parking lots at DFW that will take place between May and August this year—if you're going to be parking an EV at the airport, you can sign up for the various demos online.
https://arstechnica.com/cars/2023/05/dallas-airport-will-demo-this-cute-little-mobile-ev-charging-robot/
https://evsafecharge.com/wp-content/uploads/2023/07/arclogo.jpg
116
355
EV Safe Charge
https://evsafecharge.com/wp-content/uploads/2022/06/EVSC-Logo_Color@4x.png
EV Safe Charge
2023-07-02 11:15:41
2023-07-03 11:54:58
Dallas airport will demo this cute little mobile EV charging robot